OUR STRATEGY - KLÖCKNER & CO 2025: LEVERAGING STRENGTHS
With our "Klöckner & Co 2025: Leveraging Strengths" strategy, we are building on the various strengths we have created in recent years and leveraging them to take the next evolutionary step, leading Klöckner & Co into a successful future. We are now ready to grow.

The market environment in the steel distribution business is very complex and challenging. It is characterized by high market fragmentation, overcapacities on the supply and the distribution level, lagging digitalization and an increasing demand for customized solutions. But this also means it is rich in opportunities and holds potential for those who are willing to lead the way. After spending recent years tackling these challenges, Klöckner & Co has amassed special capabilities and expertise: our digital transformation is well advanced and, thanks to the consistent execution of the Surtsey project, we have improved our cost base substantially. Moreover Klöckner & Co together with its sub-brands have an international high-quality brand in the market and an excellent reputation. We have gained our first valuable experiences in collaborating with partners, and we have initiated a deep and comprehensive cultural change within the company. Now we will build on this foundation and take Klöckner & Co to the next level on the way to becoming a platform company.

We are focusing on generating added value for all the Company's stakeholders. Customers and partners benefiting from seamless integrated, digitalized and automated processes. For employees, we aim to foster a culture of empowerment and collaboration, upskilling them for the future and enabling them to grow and develop. For shareholders, our focus on a higher level of profitability also means a focus on the sustainable financial success of their investment in Klöckner & Co. Furthermore, we strive to make a positive impact on society and the environment and continue our efforts to reduce our environmental impact and our carbon footprint in particular.
We aim to intensify Klöckner & Co's platform-based focus, merge the digital and the physical sides of our business more closely together and make better use of our internal and external networks. Inefficiencies in low-margin steel and metal distribution are still primarily caused by linear supply chains and a lack of transparency. By integrating third parties into our single platform while digitalizing and automating core processes as the next step in Klöckner & Co's evolution, we will be able to eliminate existing inefficiencies in the value chain and lower variable costs significantly.
We always aspire to exceed our customers' expectations and maximize their benefits. By focusing uncompromisingly on their needs, we aim to achieve the best customer satisfaction in the industry. This requires an extension of our product and service offerings and larger regional coverage. With our integrated platform, we aim to become a one-stop shop with a fast-track, best-in-class user experience. That will grow our client base and increase our share of wallet: customers will buy more from us, and more customers will buy from us.

LEVERAGING ASSETS & PARTNER NETWORK
Beyond integrating existing partners into internal processes along the value chain to achieve efficiency gains, we aim to optimize our internal network and asset utilization as well as to integrate new partners with complementary offers and competencies outside Klöckner & Co's core portfolio. For partners, the chance to draw on our customer base is a huge business opportunity, which they can take advantage of by becoming part of our platform structure. Smart integration makes it easy to incorporate their offerings into the customer-facing platform, with only light asset deployment for Klöckner & Co. The resulting broader product and service portfolio and larger coverage (horizontal, vertical and regional) will extend our own customer base – in turn making the platform more attractive to more partners. In addition, they can benefit not only from digital tools and analytics as well as scaling effects in marketing and advertising, but also from our well-known international brand. This will be complemented by an opportunistic M&A approach.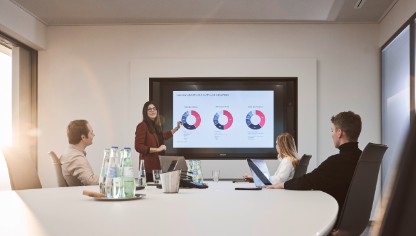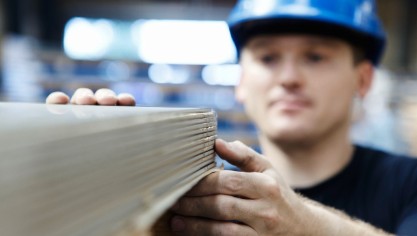 DIGITALIZATION & VALUE CHAIN AUTOMATION
Building on our pioneering role in the steel industry, we are further exploiting the significant potential of digitalization – and are now extending it to the level of automation. We continue to develop innovative digital solutions and digitalize our internal core processes. With seamless, end-to-end process integration featuring a very high degree of digitalization and automation, we can take process speed and efficiency to unparalleled levels along the entire value chain. Our goal is "zero touch."
In order to deliver the most efficient solutions and best service to our customers, we are continuously improving our operations. Excellence is our benchmark. By eliminating inefficiencies in our internal processes, we are optimizing our operational results and increasing profitability. We continue to further advance excellence in operations and sales through process automation, increased cost and process transparency, data-driven decision-making and organizational measures.
Our values form the foundation of our new strategy: we are committed to people empowerment, safety, responsibility, credibility and sustainability. These values determine our decisions and actions every day, both internally and externally. A motivating style of leadership, empowering people and fostering a culture of innovation through self-determination, talent development and incentivization are the basis for this. They allow us to advance our strengths of innovation, explore opportunities and create new business value. We continuously improve our organization, becoming more agile and adaptable, to thrive in an environment of continuous change.
We exercise responsibility in issues relating to the environment, safety and society. This commitment must be reflected in all our actions and decisions. By enforcing the highest safety standards, we ensure a safe working environment that protects our employees. We are careful in our use of natural resources and we align ourselves with the goals of the Paris Climate Accord. In terms of integrity, we are a transparent, authentic and modern company and deliver on our promises. We demonstrate accountability and commitment to our decisions and actions, and we foster a culture of dealing openly with failures.
Sustainability is at the core of our Leveraging Strengths strategy. We view it from an overarching ESG (Environment, Social, Governance) perspective and integrate it strategically. Alongside environmental issues, social responsibility and governance reliability are integral components of this. As part of our Group strategy, we are working to create a new range of sustainably produced steel with zero emissions and thus establish ourselves as a pioneer of a sustainable steel industry. We have already secured significant volumes of "green steel" through our partnership with Swedish start-up H2 Green Steel (H2GS). By expanding our sustainable product and also services range in this way, we are seizing the strategic opportunity to anchor the new, attractive sustainable services in our business model.
We see the sustainable transformation as a unique opportunity that will promote our future development and offer growth opportunities - and not just in ten years' time, but today. Our materials will be able to play a more important role in the future circular economy. And this is more than just replacing steel with green or greener steel. We are one of the few companies in our sector to have committed to the Science-based Targets Initiative (SBTI) Ambition for 1.5 °C, the most ambitious and relevant emissions reduction framework in the world.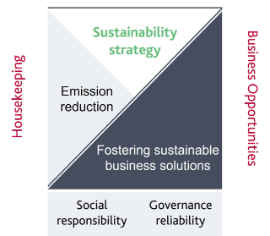 With the initiatives that form our "Klöckner & Co 2025: Leveraging Strengths" strategy, we will merge the digital with the physical business, bringing them closer together and taking them to the next level. By 2025, Klöckner & Co will be the leading digital one-stop-shop platform for steel, other materials, equipment and processing services in Europe and the Americas.