OUR STRATEGY - KLÖCKNER & CO 2025: LEVERAGING STRENGTHS
In our "Klöckner & Co 2025: Leveraging Strengths" strategy presented in 2021, we essentially distinguish between four levers: Customer Growth, Leveraging Assets & Partner Network, Digitalization & Value Chain Automation, and Operational Excellence. With our strategy, we are building on the strengths we have created in recent years and leveraging them to take the next evolutionary step, leading Klöckner & Co into a successful future.
The market environment in the steel distribution business is very complex and challenging. It is characterized by high market fragmentation, lagging digitalization and increasing demand for customized solutions. But this also presents diverse opportunities and potential for those who are willing to lead the way. After spending recent years tackling these challenges, Klöckner & Co has amassed special capabilities and expertise. Our digital transformation is far advanced, and optimizing our procurement structure has enabled us to implement data-driven decision making and strengthen international collaboration. Moreover, Klöckner & Co, together with
its sub-brands, is known for high quality and enjoys an excellent reputation internationally. We have launched a radical and comprehensive cultural change within the Company. Building on this foundation, we are taking Klöckner & Co to the next level on the way to becoming a leading one-stop-shop.
We aim to generate added value for all of our Company's stakeholders. Customers and business partners benefit from seamlessly integrated, digitalized and automated processes. For employees, we aim to foster a culture of empowerment and collaboration, upskilling them for the future and enabling them to grow and develop. For shareholders, our focus on a higher level of profitability also means a focus on the sustainable financial success of their investment in Klöckner & Co. Furthermore, we strive to make a positive impact on society and the environment.
We aim to establish Klöckner & Co as the leading one-stop-shop for steel, other materials, equipment and processing services in Europe and America, merge the digital and the physical sides of our business more closely together and make even better use of our internal and external networks. Inefficiencies in low-margin steel and metal distribution are still primarily caused by linear supply chains and lack of transparency. By integrating third parties into our platform while digitalizing and automating core processes as the next step in Klöckner & Co's evolution, we will be able to eliminate existing inefficiencies in the value chain and
significantly lower variable costs.
We always aspire to exceed our customers' expectations and maximize their benefit. By focusing uncompromisingly on their needs, we aim to achieve the highest customer satisfaction in the industry. This requires an extension of our product and service portfolio and larger regional coverage. We aim to become a one-stop shop with a fast-track, best-in-class user experience. That will grow our client base and increase our share of wallet: customers will buy more from us, and more customers will buy from us.
LEVERAGING ASSETS & PARTNER NETWORK
Beyond integrating existing partners into internal processes along the value chain to achieve efficiency gains, we aim to optimize our internal network and asset utilization by increasing international collaboration. We also plan to take new partners on board with complementary products and competencies to complement Klöckner & Co's core portfolio.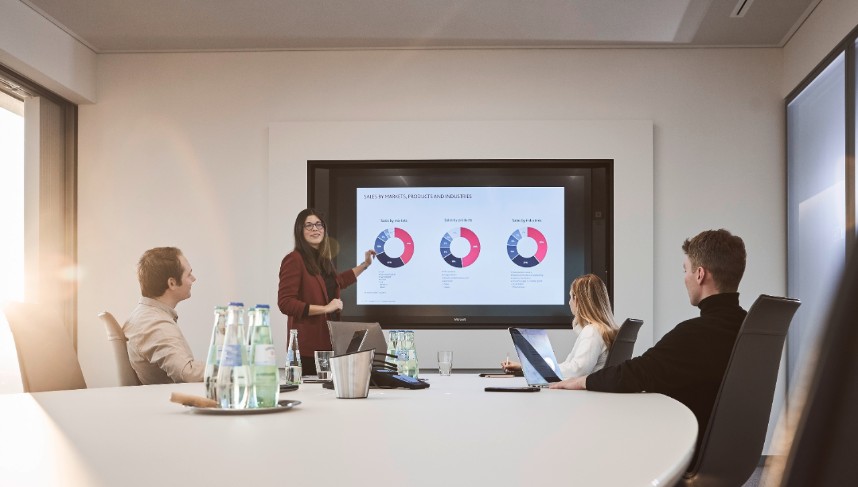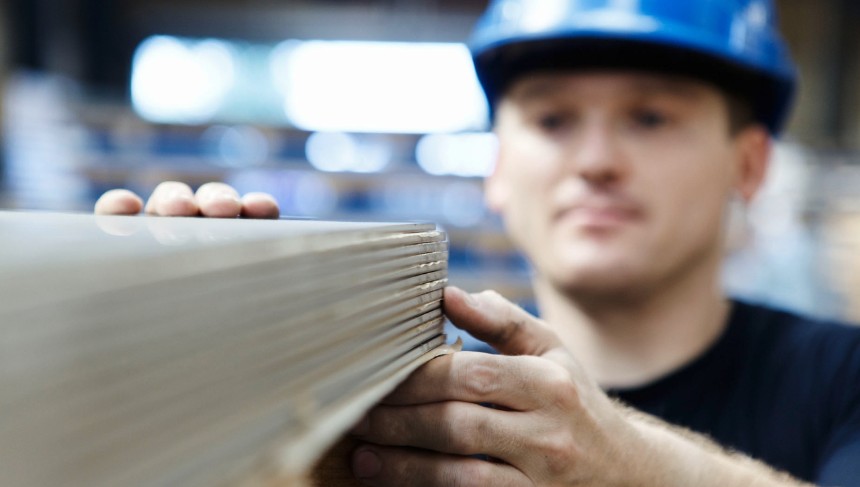 DIGITALIZATION & VALUE CHAIN AUTOMATION
Building on our pioneering role in the steel industry, we are further exploiting the significant potential of digitalization – and are now extending it to the level of automation. We continue to develop innovative digital solutions and digitalize our internal core processes. With seamless, end-to-end process integration featuring a very high degree of digitalization and automation, we can take process speed and efficiency to unparalleled levels along the entire value chain. Our goal is "zero touch," meaning value generation with minimum manual effort. In the first nine months of the year 2022, our proprietary AI solution Kloeckner Assistant already handled over €1 billion in sales. This is now a key tool in the automated processing of quotations and orders.
In order to deliver the most efficient solutions and best service to our customers, we are continuously improving our operations. Excellence is our benchmark. By eliminating inefficiencies in our internal processes, we are optimizing our operational results and increasing profitability. We continue to further advance excellence in operations and sales through process automation, increased cost and process transparency, data-driven decision-making and organizational measures.
Our values form the foundation for our strategy: We are committed to staff empowerment, safety, responsibility, credibility and sustainability. These values determine our decisions and actions every day, both internally and externally. A motivating style of leadership, empowering people and fostering a culture of innovation through self-determination, talent development and incentivization are the basis for this. They allow us to advance our innovative capacity, explore opportunities and create new business value. We continuously improve our organization, becoming more agile and adaptable to thrive in an environment of continuous change.
We exercise responsibility in issues relating to the environment, safety and society. This commitment must be reflected in all our actions and decisions. By enforcing the highest safety standards, we ensure a safe working environment that protects our employees. In terms of integrity, we are a transparent, authentic and modern company and deliver on our promises. We demonstrate accountability and commitment to our decisions and actions, and we foster a culture of dealing openly with failures. 
The beginning of 2022 also saw us develop a purpose statement. "Purpose" means the reason for a company's existence, its raison d'être or the description of what the company does to create value for its stakeholders. Klöckner & Co's purpose statement is as follows:
"We partner with customers and suppliers to deliver innovative metal solutions for a sustainable tomorrow."
With the initiatives that form our "Klöckner & Co 2025: Leveraging Strengths" strategy, we will merge the digital with the physical business and take them to the next level. By 2025, Klöckner & Co will be the leading one-stop-shop for steel, other materials, equipment and processing services in Europe and the Americas.
Sustainability is at the center of our "Leveraging Strengths" strategy. We approach sustainability from a cross-cutting environmental, social and governance (ESG) perspective and integrate it into our strategic planning. Social responsibility and reliable corporate governance are integral elements here alongside the environmental dimension.
On the basis of our Group strategy, we are working on creating a comprehensive portfolio of sustainable products and services, thus establishing ourselves as pioneers of a sustainable steel industry. In expanding our sustainable products and service portfolio, we are seizing the strategic opportunity to integrate the new, attractive business area of sustainable services into our business model. We see our sustainability transformation as an opportunity that opens up unique avenues for growth – not just in ten years' time, but in the present as well. To provide our customers with optimum support in establishing sustainable value chains, we have introduced a categorization for green and CO2-reduced steel. This allows customers to reliably, transparently and easily see the carbon footprint of a product purchased from Klöckner & Co. The categorization is rooted in international, science-based standards and categorizes low-carbon steel according to the certified emissions generated along the entire value chain, from raw material extraction to production. Numerous partnerships will enable us to offer our customers green and low-carbon steel in various categories of the scale – and from as early as this year. Klöckner & Co aims for the two lowest-carbon-footprint categories to account for over 30% of its entire range by 2025 and 50% by 2030. We have additionally expanded our portfolio by further developing our comprehensive Sustainability Advisory Services. Our specially qualified green steel experts and our over 700 trained sales employees throughout the Group now also advise customers on green products and services.

With the introduction of the Nexigen® umbrella brand, we have focused our range of sustainable products and services across the Group and provide transparent CO2-reduced solutions in the categories of materials, processing and logistics. In this way, we assist customers with the reliable procurement of CO2-reduced steel and metal products, providing them with full transparency about their CO2 footprint.
The Nexigen® categorization for transparent carbon emissions
Emission in kg CO2/ t Steel
In addition to the strategic opportunities we see in the sustainable transformation of the steel industry, we are delivering on our responsibility to reduce our own emissions as well as those in our upstream and downstream supply chains, and are resolutely showing the way forward in this regard. As part of this, we have designated the reduction of carbon emissions as a non-financial target for variable remuneration of the Management Board, the entire first management level below the Group Management Board and additional executives at levels two and three. We are the first company in the world to achieve recognition of our net zero carbon targets by the Science Based Targets initiative (SBTi) – the most ambitious and relevant emission reduction framework – as science-based in the regular validation process in accordance with the latest standards. Klöckner & Co has thus committed to reducing emissions in the entire value chain to net zero by 2050. Our path to net zero is based on the following science-based near- and long-term carbon reduction targets:
Near-term reduction targets
50% reduction in emissions in our direct control (Scopes 1, 2 and some in Scope 3) by 2030

30% reduction in emissions not in our direct control (Scope 3) by 2030
Long-term reduction targets
Reduction in emissions under direct influence (Scopes 1, 2 and some in Scope 3) to net zero by 2040

Reduction in emissions not under direct influence (Scope 3) to net zero by 2050
Our focus is on carbon-reduction measures. However, it is not possible at present to avoid all emissions along the entire supply chain. Consequently, we will compensate the currently unavoidable Scope 1 and 2 emissions by investing in high-quality climate projects. This means we are already carbon-neutral today.