Smart, digital management of product emissions with Nexigen® Data Services
Companies that want to decarbonize their value chain usually face two challenges. They need to determine the emissions data for their purchased products and then identify potential for optimization.

With the Nexigen® PCF Algorithm, we took the first step towards helping our customers do just that, because the solution can calculate individualized product carbon footprints for nearly all of Klöckner's 200,000 products.
This is how the Product Carbon Footprint facilitates decisions by our customers
What our PCF Declaration contains:
✓ The product carbon footprint from raw material extraction to production and transport emissions from our warehouse to the customer's factory gate
✓ TÜV SÜD seal: Our calculation method is officially certified (ISO 14067, ref. ISO 14040 and 14044)

✓ Unique product affiliation: Detailed product information such as batch, order number, and delivery number
Nexigen® Data Services is the next milestone
With Nexigen® Data Services, our customers can actively manage the CO2 emissions of their Klöckner products so they can reach their reduction targets.


To ensure Nexigen® Data Services are easy and convenient to use, we focused on three core functionalities when we developed the technology solution.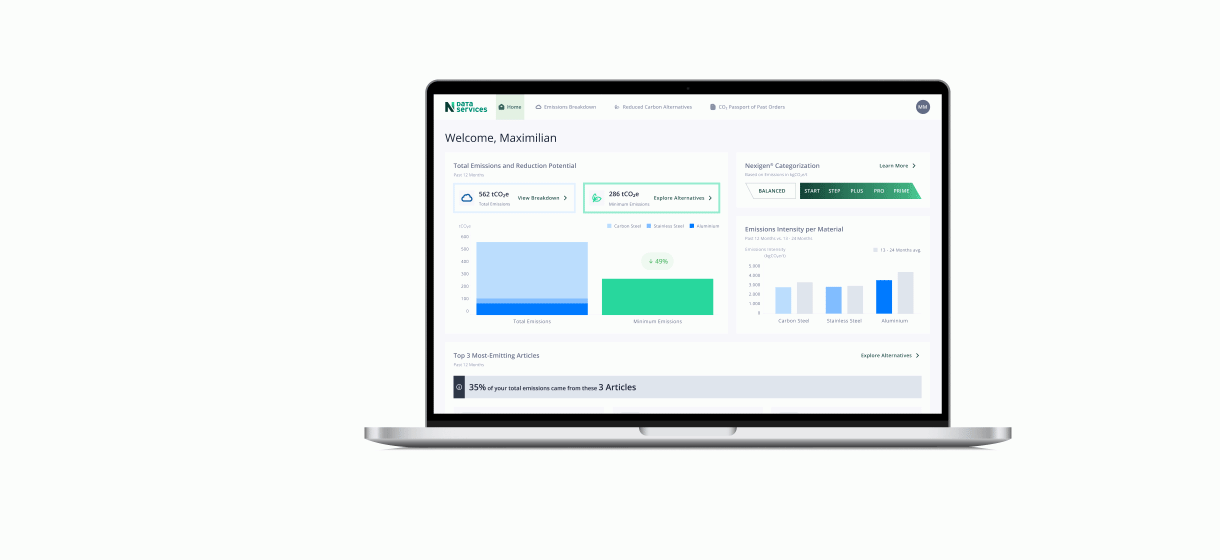 Nexigen® Data Services brings the CO2 emissions history of all products procured through Klöckner & Co together in one place to provide a clear and transparent overview. Customers also receive specific suggestions for greener alternatives and directly see ways to potentially reduce CO2 emissions compared to previous orders.
Blockchain technology is revolutionizing CO₂ emissions tracking
The use of open blockchain technology allows for a high degree of data integrity as well as seamless transparency along the entire value chain, while at the same time raising the bar for CO2 emissions tracking in the steel industry and enabling customers to take targeted steps to reduce emissions on the basis of a reliable and precise analysis.
Real solutions, not just visions
How we help you reduce CO₂ emissions
Nexigen® Data Services – Manage emissions smartly and digitally

With Nexigen® Data Services, we offer our customers the opportunity to actively manage the CO₂ emissions of their Klöckner products.
Categorizations for CO₂-reduced products

With the product categorizations for steel, stainless steel and aluminum, we are creating unprecedented transparency in the market.
Are you curious and would like to learn more about Nexigen® Data Services or our CO2-reduced products and services? Then write to us. We look forward to hearing from you!
Thank you!
Our experts will get in touch with you.
Error!
The form couldn't be submitted. Please try again.
Back to form