We plan for the steel trade of tomorrow, always attempting to be a decisive step ahead of the competition. Klöckner & Co SE employs around 7,300 people world-wide. We practice what we preach by adding value to our people through the development and promotion of people in our company. This is just as important as an attractive remuneration, benefits package and a culture of appreciation. As we push forward with our innovative "Klöckner & Co 2025: Leveraging Strengths" corporate strategy, the company as a whole is embracing the sustainable and digital age.
What is perhaps an unconventional route for a time-honored company in a tradition-steeped industry calls for a healthy dose of creative thinking and business-minded agility. Striking a balance between firmly anchored structures and contemporary start-up thinking presents a special challenge, which Klöckner & Co employees are taking up with great fervor. The radical transformation from an established steel giant to a flexible, customer-focused service provider with its finger on the digital pulse opens up plenty of scope for personal development and growth.
Our Code of Conduct is the core of our corporate culture. It sets out not only our ethical and social values but also our fundamental principles and practices. These govern our actions both internally as well as when dealing with business partners and the public. Our managers have a special role to play here. In particular, they are expected to:
Practice a leadership style that emphasizes working with team members, guiding and encouraging them to reach the desired objectives and results.

Ensure a clear and unambiguous communication between supervisors and employees.

Support employees in their development and empower them to achieve their objectives.
Our People Strategy and Values
Our Klöckner People Strategy is an integral part of the overall Klöckner & Co Strategy and sets the focus on our employees. In addition to our Klöckner principles explained below, our work is based on the core values of safety & responsibility, credibility & sustainability and people empowerment.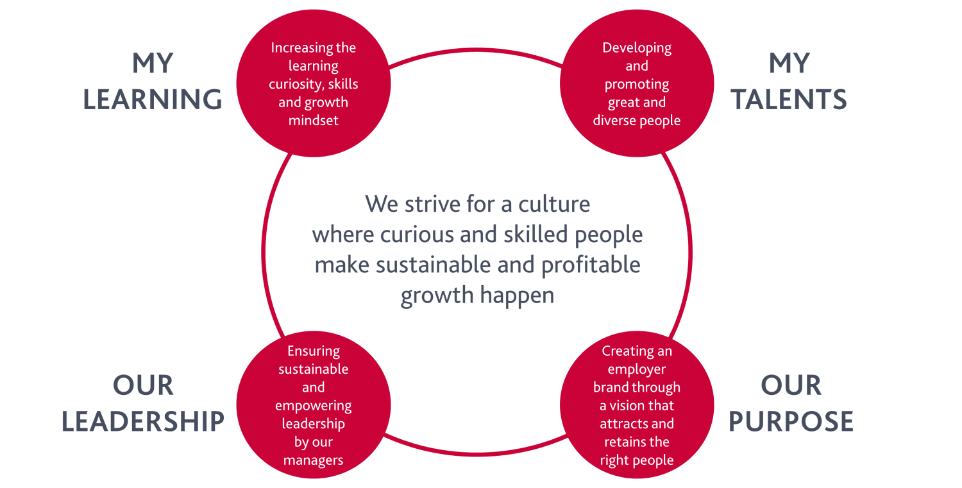 The core values are the foundation of the Klöckner Principles. Our principles give us a concrete orientation for our daily actions. The Core Principles apply to all employees.
The Plus Principles apply to all managers and optionally to all employees.
Based on the Klöckner Principles, we commit ourselves to a responsible management culture. At the "FOCUS Employer Award" (which is carried out in cooperation with kununu) in 2018, we ranked 9th out of more than 1,400 participating companies in Germany in the category "Leadership Culture". We also ranked an excellent 38th in the "Working Climate" category. In 2019 we received the "FOCUS Employer Award" as Top National Employer again.
In 2020 the group of Klöckner & Co was selected as one of the "World's Best Employers". The award was given by Forbes, one of the most successful business magazines, in cooperation with the German statistics platform Statista. Based on worldwide and independent surveys, more than 150,000 participants rated 5,000 employers according to topics such as trust, gender equality, corporate social responsibility, benefits and many more. Only the top 15% were recognized with the award.