For Klöckner & Co, qualified, motivated and healthy employees are the basis on which added value is created. We are committed to staff empowerment, safety, responsibility, credibility and sustainability. A motivating style of leadership, empowering people and fostering a culture of innovation through self-determination, talent development
and incentivization are the basis for this. They allow us to advance our innovative capacity, take advantage of opportunities and grow the value of our Company. We continuously optimize our organization, becoming more agile and adaptable to thrive in an environment of continuous change.
Continuing education is a central component of our corporate culture. That is why we offer our employees a wide range of opportunities for further and personal training. The aim of our measures is to continuously improve and develop the qualifications and skills of our employees - particularly with regard to digitization - and to promote talent from within our own ranks. Most country organizations manage this independently and have their own HR developers for this purpose. The Group-wide employee strategy, our Klöckner & Co People Strategy, serves as a guiding framework for future-oriented employee management in the Group. Klöckner & Co attaches great importance to training measures. In 2021, more than 56,000 in-house courses were completed across the Group in a wide variety of areas. The majority of these were in the areas of IT security, compliance and digital skills development as part of the Digital Academy e-learning platform.
The 56,000 training courses do not include external, individual training measures. In reviews, our employees receive feedback on their behavior and performance up to four times a year, and individual wishes and training measures are defined in the respective target agreements. Particular importance is attached to our internal training programs: Clear Sales and Sales X for sales, Initial Development Program for junior staff development, Emerging Leaders Program and Leading for success for leadership potential development, Leadership Empowerment Program for managers and Senior Experience Program as development training 55+. Throughout the Group, Klöckner & Co offers young professionals and students the opportunity to work as interns and student trainees so that they can put their studies into practice and deepen their knowledge.
Occupational health and safety is a key issue for us as a steel distributor with a high percentage of wage earners employed at our branches. A healthy and safe working environment both protects our employees and ensures smooth process workflows. Since the start of the global pandemic caused by COVID-19 at the beginning of 2020, the Group and the country organizations have regularly
drawn up hygiene concepts and safety measures in line with needs and requirements and moved business to the home office. This development led us to adopt a new Group-wide guideline on hybrid working in mid-2021. It is regarded as our future standard for sustainable modern working: Anyone who wants to work on a mobile basis can do so - as far as operational requirements allow.
Since 2013, our occupational safety activities have been brought together under the "Safety 1st" initiative in Europe and similar initiatives at our American country organizations. In line with our Group-level objectives, these initiatives are geared to raising occupational safety awareness among employees and feature a broad package of measures to reduce accident numbers. Officers at each country organization are responsible for the regional implementation of adopted measures, subject accident causes to plausibility checking, perform risk analysis and coordinate cross-location training. Accidents are always avoidable and preventive action enables us to avert loss or harm to employees and our business in advance.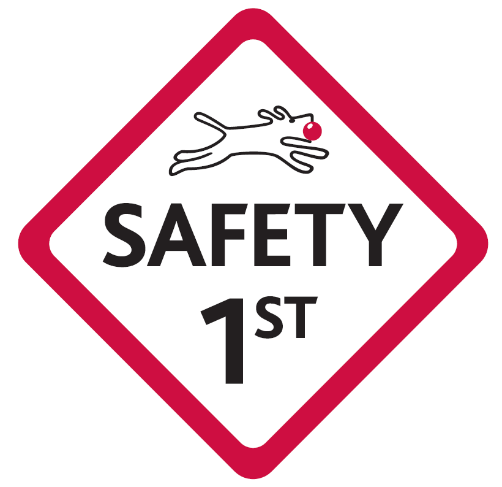 The Groupwide goal of our initiatives and measures in the area of occupational safety is to consistently reduce occupational accidents, measured by the Lost Time Injury Frequency (LTIF) indicator. This is defined as the number of accidents / number of hours worked x 1,000,000. The development of LTIF 2021 was reduced year-on-year from 9.7 to 6.9. Occupational health and safety certification, generally in line with the international standards OHSAS 18001 or ISO 45001, is already in place at all major European country organizations. In addition, a Group-wide minimum standard of safety requirements always applies. The SHEQ policy is our internal occupational safety, health, environmental and quality guideline.
For Klöckner & Co, fair working conditions are the basis for the motivation and hence the productivity of our employees. A working environment characterized by mutual respect and free from discrimination of any kind is a necessary precondition for comittment and creativity. In general, we strive to increase diversity in our workforce as well as foster creativity and an innovative spirit in the Company with employees of differing cultural backgrounds, lifestyles and values. In order to make diversity management more active and drive it forward in all dimensions, Klöckner & Co signed the Diversity Charter (Charta der Vielfalt) in May. The association of the same name is the largest employer initiative in Germany to promote diversity in companies and institutions.
Irrespective of their location in Germany, the voluntary commitments made are valid throughout the Group. These include fostering a respectful organizational culture, recognizing diversity inside and outside the organization, and implementing the charter in internal and external dialog. With the Code of Conduct we have committed ourselves, among other things, to ensuring that our colleagues, applicants and business partners can expect respect from us and are judged according to their qualifications, competencies and performance. Our German offerings follow the quality standards of the "Fair Company" initiative, to which Klöckner & Co commits itself anew each year.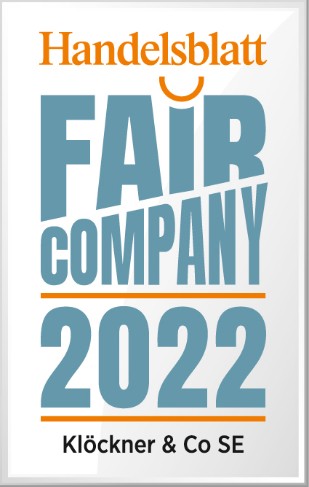 However, diversity of nationality is not the only important consideration for Klöckner & Co. We also aim to appoint women to specialist and management positions. The percentage of women employed at management levels one to three below board level has already been raised from 8% in 2011 to 18% Group-wide in the reporting period. The aim is to further increase their share to 21% by 2024.
The success of our approach to promoting women in managerial positions is demonstrated by the findings of the 2015 to 2020 iterations of the "Frauen-Karriere-Index" (Women Career Index), a regular survey conducted by Barbara Lutz Index Management GmbH. In March, this annual external survey based on objective corporate data on the promotion of women in management positions singled out Klöckner & Co yet again – as it has every year since 2015 – as one of the top ten companies out of over 200 participants.