The digitalization strategy developed by Klöckner & Co aims to eliminate information asymmetries by digitally connecting all market participants in order to increase efficiency for all. To this end, Klöckner & Co founded a digital unit, kloeckner.i, in Berlin in 2014, which now has around 90 employees. Besides the systematic digitalization of internal and external processes, an essential component of this digital transformation is a profound cultural shift within the 
Company. Our employees therefore need to incrementally develop their digital mindset, which is crucial to our shared migration to Industry 4.0. To ensure that everyone embraces and sees themselves as part of the changes, we have prepared a broad range of measures offering all employees the opportunity to acquire digital know-how at their own speed.
0
Digital Academy course registrations
Since the digital unit kloeckner.i was founded in 2014, many important projects for the digital transformation of Klöckner & Co have been initiated together with the Group IT and Digital Transformation departments. This enabled us to assume a pioneering role in the steel industry at an early stage. These three previously separate areas are now joining forces. To differentiate ourselves even more from our competitors in the future, we are expanding our digitization efforts and further automating our internal value chain. Through results-driven innovation and the development of digital tools in kloeckner.i, we will drive the successful transformation in our markets. Agility, cross-functional teamwork and employee empowerment are key enablers for successful transformation and improved performance.
By bringing all innovative, transformational and IT competencies and services under one roof, our operating businesses benefit from easier collaboration and faster development, deployment and feedback integration. In addition, a new unit, kloeckner.i US, was established in the summer to support the transformation of our US business. kloeckner.i US will focus on Innovation & Transformation and will be closely linked to the new kloeckner.i. In the future, cross-country strategic visions and implementation plans will be driven to define similar processes in the same business areas. Here, kloeckner.i will support the projects as a central point of contact by developing better target processes and finding solutions that are as standardized as possible in order to achieve a high degree of automation.
To ensure that each and every individual is taken along on this journey and sees himself or herself as part of the changes, we have developed a broad catalog of measures that offers all employees the opportunity to acquire digital skills at an individual pace. For the targeted expansion of digital skills, we offer all employees job-specific in-house training and language courses as part of our Group-wide Digital Academy, which can be used during working hours. Users can access a wide range of online courses, most of which are designed to enhance digital skills. In 2021, the Digital Academy Sales and Digital Academy Warehouse areas were integrated, which provide a specific offering for the professional groups in sales and operations. We were able to increase cumulative course registrations from 9,000 in 2020 to 36,000 in 2021.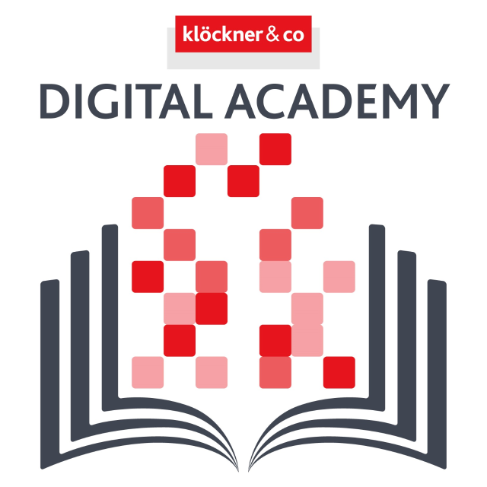 Another key driver of cultural change is intensive internal communication to make employees aware of the need for digital change and allay their fears.
Klöckner & Co introduced the social network Yammer throughout the company back in 2014. Our employees use the hierarchy-free communication portal to exchange ideas, for discussion and as an important source of information. The Chairman of the Board of Management invites all employees to open discussions on Yammer and uses the tool, in addition to the regular board calls, for example, as an information channel through which not only the progress of our digital transformation is communicated. In order to improve collaboration in the Group, promote agility and get employees excited about innovations, we are continuing to roll out and further develop the #DigiDesk. All Microsoft Office 365 applications can be used by the workforce via the modern intranet. The Digital Academy and the employee magazine are also located in this SharePoint environment.
Agile working is an important prerequisite for accelerating internal processes, responding promptly to changing customer requirements, and thus holding one's own against competitors in the market. Extensive education, training, and communication tools such as Yammer campaigns and posters have led to agile working practices becoming more and more firmly established in the Group. With the measures outlined, we are meeting the challenges of digital transformation and creating a link between internal cultural change and the operational goals of our digitization strategy.