Building on the strategy "Klöckner & Co 2025: Leveraging Strengths", Klöckner & Co aims to become the leading digital one-stop-shop platform for steel, other materials and processing services in Europe and the Americas and a pioneer for sustainability in the steel industry - for the benefit of customers, industry and society. We view sustainability from an overarching ESG (Environment, Social, Governance) perspective and integrate it strategically.
In addition to environmental issues, social responsibility and governance reliability are integral parts of this. While many only look inward, we take a holistic and strategic approach. We take responsibility for our own actions, but we also see transformation as a unique opportunity that we believe will support our future development and provide growth opportunities.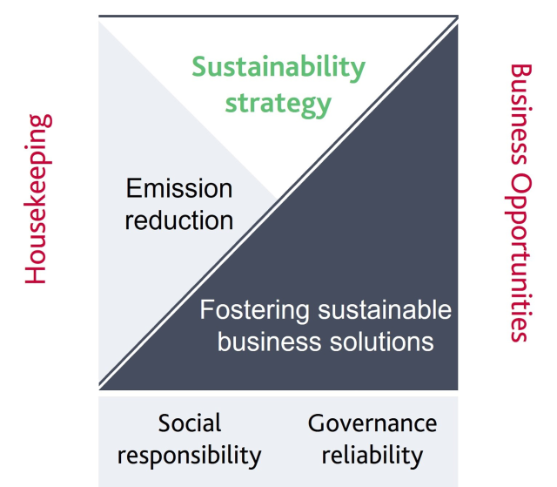 As part of our Group strategy, we are working to create a new range of sustainably produced zero-emission steel and thus establish ourselves as a pioneer of a sustainable steel industry. To underpin this, we have partnered with the Swedish start-up H2 Green Steel (H2GS) and secured significant volumes of virtually CO2 emission-free steel. H2GS steel production generates over 95% less gross CO2 emissions than conventional products. By expanding its sustainable product and also service portfolio in this way, Klöckner & Co is seizing the strategic opportunity to anchor the new, attractive sustainable solutions in its business model.
We believe that our materials can play an important role in the future circular economy.
And this is more than just replacing steel with green or greener steel. It makes it possible to develop new products, replace other materials and find new supply chains. In this way, we can offer our customers other benefits in complement to our independence and our advanced digitalization. In addition, we see the responsibility to reduce our own emissions as well as those of our upstream and downstream supply chain. Already in 2020, Klöckner & Co has joined the "Business Ambition for 1.5 °C" initiative launched by the UN Global Compact and is aligning its business activities with science-based targets to contribute to limiting global warming to 1.5 °C through appropriate measures.
Sustainability for us means acting responsibly, with clear goals and very specific actions in various dimensions of sustainability. To us, this includes not only ecology, but also social responsibility and reliable governance. In the social area, we shape the cooperation between our employees, our suppliers and our customers. For example, occupational safety is at the top of our agenda and we are committed to health protection, for example through the Safety 1st and Kloeckner Cares initiatives, but we also specifically promote more education in society. We are also committed to reliable governance, for example by creating transparency and commitment in corporate management.
With the opportunities sustainability offers for future change and improvement, it will make us even more disruptive and innovative. Data management and automation help us minimize intransparency and enable efficient resource management and environmental protection. In this way, sustainable management can also further strengthen our position as a driver of digitalization and renewal in the steel industry. In this way, Klöckner & Co underscores its commitment to a more sustainable economy.