As an international steel and metal distributor, we aim to offer customers the highest quality and optimum service. Reliable service strengthens our position as the connecting link between customers and suppliers on  a lasting basis. High product quality, an extensive range of services and our digital solutions make us a reliable partner to customers from all industries. Klöckner & Co prioritizes high 
levels of customer satisfaction and enhancement of our customer focus. This is why, in keeping with the design thinking approach, we always conceptualize products and services, sales channels and innovations from the customer perspective. Accordingly, we actively involve our customers in the process and selectively analyze their personal wishes and needs.
For this reason, we always think from the customer's point of view when it comes to our products and services, our sales channels and innovations, and the development of digital tools and applications - true to the "design thinking approach". We actively involve customers in our process and analyze their personal wishes and needs. In this way, we succeed in meeting customer needs more efficiently and faster with a variety of digital tools that we are constantly developing. These are applications such as the Kloeckner Assistant, which automates large parts of the administrative sales process. The AI-driven application was further improved in the reporting year and is expected to be able to digitize and automate 80% of sales processes in the future as a result of the measures initiated.
The improvements included an increase in the volume of digitally and semi-automated processed PDF-based inquiries and orders, fully digital archiving in the SAP document archive, and a substantial improvement in data quality through smart, technical validations and machine learning. These measures help ensure that quotations and orders are processed even faster and reduce the likelihood of incorrect deliveries.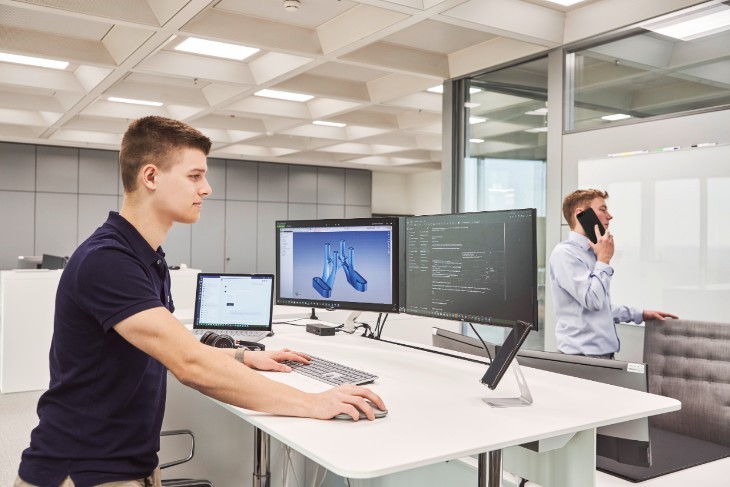 We use various agile working methods from the start-up world. To ensure that product development is continuous and targeted, we conduct results-oriented interviews with our customers and use new methods to gain insights, such as the creation of a so-called "customer journey". This involves visualizing the customer experience from the first contact with the product through the entire usage process to long-term product use. The insights gained in this way then contribute to the further development of products, tools and services. On this basis, we develop a product or tool that initially meets only the minimum requirements - a "minimum viable product".
The "Lean Start-up Approach" is therefore a procedure that we also apply to various internal projects. With this approach, we are significantly faster because only the most important requirements are met in the first step. Optimizations can still be made successively downstream. In this way, we also avoid the risk of tying up capacity for new product features that ultimately offer no added value for our customers. kloeckner.i, our digital unit in Berlin, is in regular contact with customers to find out about their requirements for the digital product range and their satisfaction with it, and to gear the expansion of the product landscape to customer needs. 

We regularly ask our customers whether they are satisfied with the service they receive from Klöckner & Co. The feedback collected from customers contributes to the permanent improvement of the digital system landscape and processes. With a rate of around 76%, online store customers are very satisfied with Klöckner & Co in 2021. Around 250 responses have been received internationally across all online stores of the national companies. Permanent surveys are running there in which existing customers can give their feedback. The results are evaluated by kloeckner.i and discussed internally and with the national companies.
In addition, our national companies regularly ask customers to give their assessment of various aspects. These include accessibility, the product range, product quality, product availability, the range of products and services, the expertise of the employees, delivery times, adherence to deadlines, order documents, and the handling of complaints. The customer surveys conducted regularly at our national companies serve to ensure the effectiveness of our approaches and give us a picture of the response.

On the basis of these surveys, we continuously improve systems and processes and derive further measures for customer loyalty. After all, satisfied customers are the basis and prerequisite for sustainable growth at Klöckner & Co. It is all the more gratifying when our work is appreciated by our customers. In November 2021, Kloeckner Metals Corporation (KMC) was presented with a Leadership Award in Shareholder Value by Johnson Controls, the global building technology company, for its long-term and trusting cooperation. The award is a testament to the KMC team's commitment to continually drive improvement and innovation with Johnson Controls and increase shareholder value.