One of the greatest challenges in the Environment area and of our times is climate change, and Klöckner & Co regards it as its duty to counter related risks with a suitable contribution to protecting the environment.
A significant part of our business model involves shipping products to customers by truck. Klöckner & Co's key task in the Environment action area is therefore optimizing the environmental impact of logistics processes along our value chain. The Group-wide objective of our projects and measures in this area is to maintain our current high service level with fewer trucks, thereby both cutting costs and reducing CO2 emissions. To this end, we endeavor to influence the environmental impact of logistics at three levels in our value chain - receipt of goods, internal transport and delivery to our customers. 
At the first level, we strive to optimize the management of incoming goods. The products are mainly delivered to our sites by suppliers. Through the targeted coordination of suppliers at level one coupled with enhanced inventory management at level two, we aim to reduce the internal transport between our sites. This is achieved, for example, through optimized inventory allocation. In addition, our internal networks in each country organization are checked on an ongoing basis. 
By monitoring and reporting relevant KPIs such as transport, warehousing costs and shipments, we can see where networks require adjustment. In recent years, the results of this have included improvements in the warehouse structure in eastern Germany, the commissioning of a new central warehouse in France, and the restructuring – and in some cases expansion – of existing sites in Switzerland. Additional network adjustments were undertaken as part of the Surtsey transformation project: 16 of 19 sites, primarily in France and the USA, were closed. Thanks to the above-mentioned adjustments, we achieved further efficiency enhancements in 2020 that resulted in both cost savings and better environmental stewardship. This consolidation to a small number of sites increases truck capacity utilization. In addition, all sites at our country organization Kloeckner Metals UK and our German company Becker Stahl-Service are already certified to the ISO 14001 environmental standard, which also covers logistics. Kloeckner Metals UK attained BES 60013 certification for responsible sourcing in 2019.
At the third level, the goods are delivered to customers from roughly 100 warehouse sites (initially in Europe only). Here, we pay particular attention to efficient delivery route planning, where key quality aspects include adherence to delivery dates along with ongoing optimum utilization of truck capacity and optimized route planning. This led us to launch a universal rollout of transportation planning software back in 2017. It is in operation throughout our EU country organizations with the exception of France. The transportation planning software delivers the data we need to reduce the fuel consumption of the trucks we use. This can include actions such as avoiding empty runs and fine-tuning delivery frequencies. Since the beginning of 2020, Klöckner & Co Deutschland, Kloeckner Metals UK and Kloeckner Metals Benelux have been testing the ePOD app as a way to further improve logistics processes.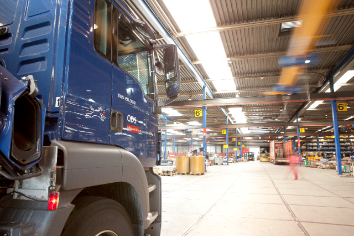 The app supports the drivers during the delivery routes and forms the basis for digital documentation and transparency along the supply chain. Klöckner & Co uses the data it gathers to plan routes better and enhance their efficiency. Several country organizations deploy state-of-the-art on-board computers that provide continuous feedback on driving behavior, vehicle speed and engine speed, thus helping to reduce truck fuel consumption and hence CO2 emissions. In Germany, the drivers operating our modern fleet are provided with road training and regular feedback on their driving behavior. At Kloeckner Metals UK, too, the Safe & Fuel Efficient Driving program has been in place since 2017.
CLIMATE GOALS: BUSINESS AMBITION FOR 1.5°C
As one of the very first companies in Germany, Klöckner & Co will align its business to the UN Global Compact "Business Ambition for 1.5⁰C". In this regard, we intend to act even more responsibly and take appropriate and verifiable measures helping to limit the global temperature rise to 1.5°C by further reducing its carbon emissions. "Business Ambition for 1.5°C" is an initiative by the UN Global Compact. The campaign is calling for businesses to step up and take action against global warming. The call-to-action was announced by more than 25 businesses, civil societies and UN leaders in June 2019. 
Recognizing the urgency of the climate challenge, Klöckner & Co also follows the call, thus formalizing its increased ambition and signaling its commitment to its peers, investors, policy makers, customers, suppliers, civil society organizations, and other stakeholders. Our efforts in digitalization and our platform strategy support our climate ambitions, as they will enable us to anticipate steel demand with ever greater accuracy and further optimize logistics, thus reducing CO2 emissions.