A qualified, motivated and healthy workforce paves the way for Klöckner & Co to generate added value – for employees, for the Company and ultimately also for our customers. If we are to keep the entire workforce motivated, nurture talent from within our own ranks, recruit new talent and secure employee loyalty, we need
a working environment characterized by long-term security, supportiveness, professionalism and mutual respect. Such a working environment is vital to Klöckner & Co's success – and for every employee to be able to develop and realize their full potential.
Dedicated and qualified employees are a key factor in our success as a service provider. To this end, we offer employees a wide variety of further training and personal development opportunities. Another focus is on nurturing new talent. Particularly with a view to demographic change, recruiting and securing talent for the long term is central to our corporate success. Our Group-wide HR strategy is therefore based on the pillars of leadership and corporate culture, systematic
performance, talent and succession management, and improvements to make us an even more attractive employer. Continuing education is a high priority at Klöckner & Co. Group-wide, some 46,000 in-house courses were completed in a broad spectrum of areas in 2019. The majority of them were in security, compliance and digital skills development as part of the Digital Academy. External, individual continuing-education measures are not included in this figure.
For career starters and students, Klöckner & Co offers Group-wide internships and working student positions, where they can apply and consolidate content from their studies in real-life business situations. Our German activities in this connection follow the quality standards of the Fair Company initiative, for which
Klöckner & Co reaffirms its commitment each year. Additionally a Country Talent Pool Program was launched in all country organizations in 2018. As part of this program, young talent is selected and provided with targeted support and training over a period of twelve months.
Our tried-and-tested Emerging Leaders Program – a global development program for the upcoming generation of branch managers – has been running since 2015. The program both teaches and acts as a refresher for expertise essential to the digital era and the future of the Group. Topics range from contemporary business administration knowledge, leadership and change management skills to agile working methods, and serve as an effective toolkit for innovative and customer-centric business practices tailored to our digital transformation. Management tasks have changed substantially due to ever flatter hierarchies, virtual teams and rapidly evolving demands. Executives not only need to keep pace themselves, but also stay motivated in their efforts to  support
constructive collaboration among their team members. In order to ensure that happens at Klöckner & Co, managers at management level 3 can now take part in the Leadership Empowerment Program (LEMP). This program was launched to give even more Klöckner & Co employees digital training opportunities that will keep their skillsets aligned with the future of the Group. The fact that our further training activities are well received is demonstrated, for instance, by the consistently positive feedback regarding our Emerging Leader Program, as well as our kununu rankings (Europe's biggest employer rating platform), where we are regularly rated a top employer.
Occupational health and safety is a key issue for us as a steel distributor with a high percentage of wage earners employed at our branches. A healthy and safe working environment both protects our employees and ensures smooth process workflows. 
When the effects of the global COVID-19 pandemic became clear in early 2020, the Group formed a COVID-19 crisis team in the holding company and discussed the developments each week. The country organizations developed hygiene concepts and safety measures in a decentralized fashion, depending on their needs and requirements.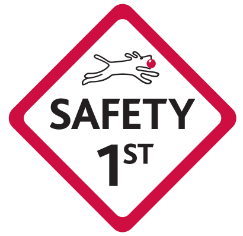 Since 2013, our occupational safety activities have been brought together under the "Safety 1st" initiative in Europe and similar initiatives at our American country organizations. In line with our Group-level objectives, these initiatives are geared to raising occupational safety awareness among employees and feature a broad package of measures to reduce accident numbers. Officers at each country organization are responsible for the regional implementation of adopted measures, subject accident causes to plausibility checking, perform risk analysis and coordinate cross-location training. Accidents are always avoidable and preventive action enables us to avert loss or harm to employees and our business in advance.
For Klöckner & Co, fair working conditions are the basis for the motivation and hence the productivity of our employees. A working environment characterized by mutual respect and free from discrimination of any kind is a necessary precondition for comittment and creativity. In general, we strive to increase diversity in our workforce as well as foster creativity and an innovative spirit in the Company with employees of differing cultural backgrounds, lifestyles and values. 
For us as an international Group, serving our customers every day in numerous countries around the world calls for a strong global team with a high level of diversity. In total, we employ people from some 60 different nationalities in our Group. Hiring and remuneration criteria are gender-neutral and are determined exclusively according to professional suitability and qualifications.
The success of our approach to promoting women in managerial positions is demonstrated by the findings of the 2015 to 2020 iterations of "Frauen-Karriere-Index" (Women Career Index), a regular survey conducted by Barbara Lutz Index Management GmbH. In this annual external survey based on objective corporate data on the promotion of women in management positions, which was released in the first quarter of 2021, Klöckner & Co was singled out for the fifth time in a row as one of the top ten companies.
In addition, the joint 2020 study by the women's magazine Brigitte and Territory Embrace also confirms that promoting women is important to Klöckner. Thanks to our good performance in the following areas, Klöckner & Co was honored as one of the best employers for women: compatibility of professional and family life, workplace flexibility, career-advancement measures, and value placed on transparency and equality.