The digitalization strategy developed by Klöckner & Co aims to eliminate information asymmetries by digitally connecting all market participants in order to increase efficiency for all. To this end, Klöckner & Co founded a digital unit, kloeckner.i, in Berlin in 2014, which now has around 90 employees. Besides the systematic digitalization of internal and external processes, an essential component of this digital transformation is a profound cultural shift within the 
Company. Our employees therefore need to incrementally develop their digital mindset, which is crucial to our shared migration to Industry 4.0. To ensure that everyone embraces and sees themselves as part of the changes, we have prepared a broad range of measures offering all employees the opportunity to acquire digital know-how at their own speed.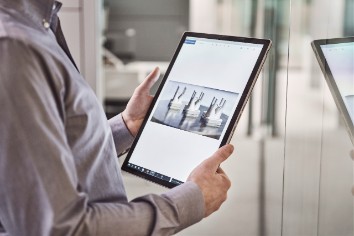 Employees have access to job-specific, in-house training and language courses via our Group-wide Digital Academy in order to selectively broaden their digital skills. This enables them to take part in online training on a voluntary basis during office hours on our premises or from a home office. The academy offers numerous online courses for users, mostly with the aim of enhancing digital skills.
The course program comprises more than 30 offerings with over 100 hours of instruction altogether. Participants' feedback and requests are also taken into account in the development of new course topics so that they have a hand in shaping future training packages. In 2020, our further training focused on such topics as digitalization basics, coding, online marketing, artificial intelligence and digital business models.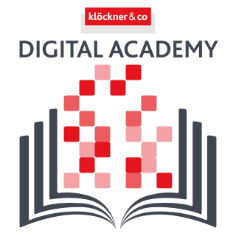 In order to provide more in-depth practical knowledge of digital work methods, we have also implemented the Group-internal Digital Experience exchange program within our country organizations. Participants' digital and individual skills are further enhanced in a several-week stay at our digital unit kloeckner.i in Berlin. In return, the exchange with colleagues who are mostly involved in business operations gives kloeckner.i first-hand expertise in steel. Initially designed primarily for employees in Sales, the international exchange program was later expanded to other areas of the Company such as HR, and was even used by country CEOs in 2020.
Another key driver of our cultural change is in-depth internal communication to highlight for employees the need for digital transformation and to alleviate any concerns.
As early as 2014, Klöckner & Co introduced the Yammer social network throughout the Company. Today, some 75% of employees use the hierarchy-free communications portal to exchange ideas, hold discussions and as a valuable information resource. The CEO invites all employees to engage in open dialog on Yammer and uses the tool – in addition, for instance, to regular town hall meetings – as an information channel for actions such as communicating on the progress of our digitalization strategy.
In order to enhance cooperation within the Group, promote agility and inspire enthusiasm for innovations, Klöckner & Co continues with the rollout and refinement of #DigiDesk. This lets the workforce make use of all Microsoft Office 365 applications via the cutting-edge intranet. The SharePoint environment also includes the Digital Academy and the employee magazine, which has been available in an interactive online format since mid-2020.
Agility is a key prerequisite for speeding up internal processes and responding instantly to customers' changing wishes – and thus gaining an edge over competitors in the marketplace. A wide range of courses, training and communications initiatives such as Yammer campaigns and posters have helped to establish agile working methods ever more firmly in the Group. This lets us meet the challenges of digital transformation and forge a link between the internal cultural shift and the operational objectives of our digitalization strategy.